What's your email?
Get notified each time we post a new guide.
No spam ever, unsubscribe at any time.
Download Your Practice Journal
The Jazz-Library Practice Journal is a set of templates designed to encourage healthy, robust and methodical practice sessions.
Build Your Chops through Smart Practice
Focused, intentional practice at a regular schedule is the fastest way to improve your jazz playing ability. As such, your practice sessions require up-front planning and critical review.
When I studied in Conservatory, my teacher taught me practice method which I've continued to refine since. For the last 20 years I've kept handwritten practice logs in Moleskine notebooks. Over time, the pages of my practice routines have become structured and templated.
I've taught this same approach to my private students, and have seen first hand how much faster they improve as a result.
Today, you can download the same template to use for yourself. It's completely free, no strings attached.
What's Inside
Inside the practice journal you'll find page template for all the essential components of good practice:
A list of tunes you'd like to learn
Planning sheets to learn important techniques through exercises
Daily journal entries for reflection and improvement
A place to take handwritten notes
Manuscript paper for jotting down musical ideas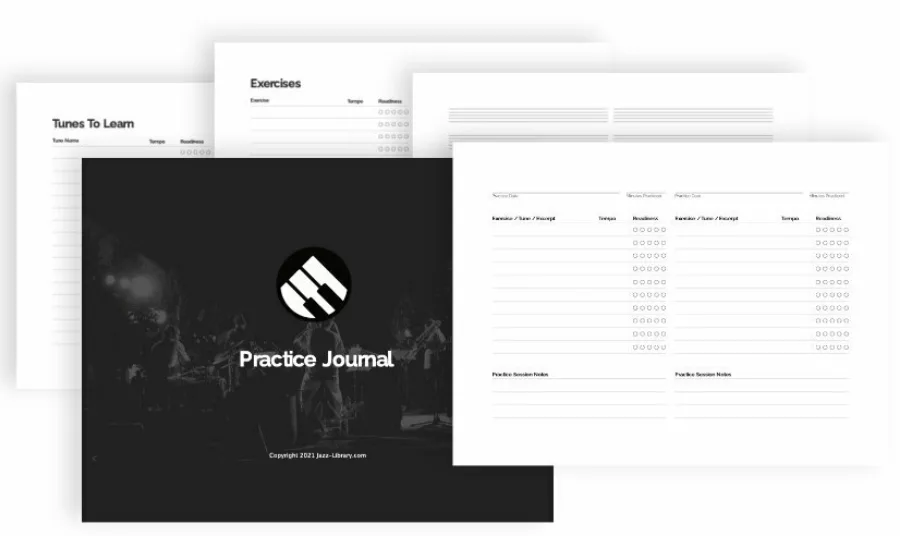 How To Use Your Practice Journal
Getting started with the journal is easy. Once you fill out the form above, we'll send the practice journal to your email as a PDF file. You can print off the full PDF to get started for your first day. Over time, you'll want to print more copies of the individual journal pages for each practice session.